For you modern Mamma's looking for alternatives places to park a newborn
try Oeuf's Baby Lounger.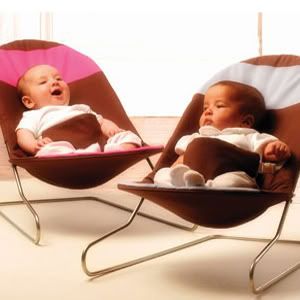 This modern and sleekly styled baby lounger is a nursery necessity. Securely attached with the 3-point safety belt, the baby lounger is basically where your baby hangs out. Suitable for babies up to 18 lbs/9kg, our lounger features a padded machine washable canvas seat that rests on its steel seat frame. One size only, from birth until child can sit up unassisted. 100% cotton outside, 100% polyester filling, satin chrome steel frame.
Google it
- many stores sell this one!