We love finding out about new sites selling stuff for hip kids.
Point your browsers to
UrbanKidsPlay
and shop your little hearts out.
My faves...all cars. Ahh to be a boy's mamma.
Check these
AUTOMOBLOX Cars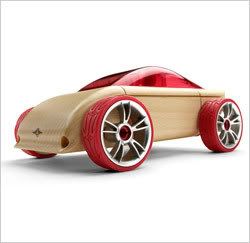 Automoblox cars are designed to be taken apart and put together again and again. It's interlocking componenets interchange with all other Automoblox models. All Automoblox vehicles feature:
Family of passengers
(folks..they come with little people inside!!!!), changeable wheels, changeable tires, interchangeable roof, interchangeable body blocks, removable connectors, 17 digit VIN number and premium packaging!
And how cute these
Birthday Cars
Birthday Cars by Vilac
Choose the birthday car for your youngster with their corresponding age with this wonderful keepsake. Recommended Ages: 1 Year +
H is definetly getting a
HUGGY BUGGY
(and only $10.00)
they come in a bunch of colors & these bright-colored, soft Huggy Buggys will delight preschoolers. Recommended Ages: 18 Months +