Modern parents with contemporary tastes abhor standard fare for their tots.
High Chairs are no exceptions.
Here are 4 fab ones to choose from:
Our favorite (we chose this for H)
the Svan
The single best feature of the Svan™ Chair is its tremendous versatility. It can be used as a traditional high chair with a tray , but remove the tray and even a young infant can be seated up to the table for a meal with the family. Later on, the safety guard can be removed so your child can step up into the chair on their own to seat themselves up to the table and eventually it becomes a full-size chair.
About $235

The Babylon High Chair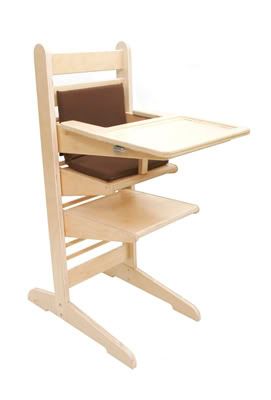 The Babylon Toddler High Chair can support children and also most adults. It can handle more than 250 lbs. The seat adjusts to as high as a bistro or countertop and as low as a coffee table. Shown with optional cushion and infant tray. For babies older than 18 months.
About $200
The Nest High Chair
The NEST® High Chair combines minimalist form with superior function. The compact shape and stable powder coated tulip base enable NEST® to be pulled right into to the table with no tripping hazards. The UV stabilised polyethylene curved seat and tray simply wipe clean. A machine washable 5-point safety harness is supplied with NEST®.
Every NEST® High Chair is designed and built to last. This chair fits babies and children from 6 months to 6 years. The removable tray is suitable for baby feeding. For toddlers and young children who want to join the family at meal times, NEST® easily converts to a standard table height booster chair by removing the tray. Is your child too old for a high chair? In just moments NEST® converts to Nester - a cool low chair that will last you child to 6 years of age. Height 32" – Base Diameter 18.9" – Overall chair diameter 17.7" – Weight 25.4lbs. About $575
The Calla HighChair
- not yet available but very cool.

Designed by Yves Behar for Fleurville this very mod high chair will be highly coveted by the jet set...maybe you can get on a waiting list somewhere??