It seems like my obsessions are hi-chairs, rocking chairs and bassinets...it is true.
CHeck out this super swet Mod Rocker from IglooPlay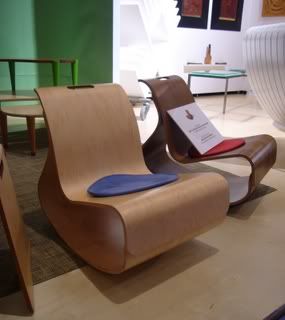 U.S. Design Patented. Awarded Honorable Mention, 2006 I.D. Magazine Annual Design Review. This rocking chair will appeal to a child's interest in movement as well as scale, organic form, material variation and color. The form and material invite kids to play, read or simply relax. As research indicates that children often fidget in stationary chairs, the rocker's design provides a personal space rather than just a mere chair. The chair gives an easy rock to mellow children, provides comfort while reading or playing and the space below is a secret nook to store stuffed animals. The form is wide and low to the ground, inspired by West African stools that cup the body and that are considered to be highly personal objects. The sculptural form of the Mod Rocker™ is an aesthetic addition to any room in the home... and of course, kids will love being included in the family space.
You can buy it on
ModernTots
for $285