I dream about being able to travel with the boys...showing them the world.
But I dread the temper tantrums out of boredom, the incessant kicking of the seats of the passengers in front of them and the dirty looks we'll get boarding the plane.
I have such a great attitude -- don't I?
But what makes me hopeful is this sweet little bag from FLT 001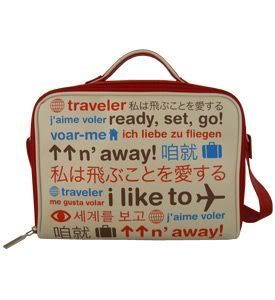 Flight 001 exclusive Sky Box. Perfect carry-on for kids. Holds all their in-flight entertainment and snacks. Features transparent zippered pocket and hidden information tag. Adjustable shoulder strap. Zipper closure.
10in X 7in X 3.75in
$34 buy it
HERE