I am so not artistic and I am reminded of that everyday.
However I found something that looks really interesting
Easy123art.com is a paint by numbers kit made just for you from any photo you send them (digital files too)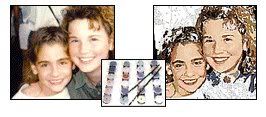 The photo Paint-By-Number kit entitles you to one (1) personalized paint-by-number kit of your photograph. The kit includes: 42 acrylic paints, 2 brushes, numbered outline on art paper or canvas, and a reference sheet of the outline in case you paint over a number.
Princesrange from $50 - $90 depending on the size you choose and whether you paint on canvas or paper.
check it out
HERE
and get creative!