Please excuse us for the brief hiatus.
Hip Kid's Family moved over Easter weekend into a house that is TOTALLY.UNDER.CONSTRUCTION. Uh.Hmmm. A House that was supposed to be TOTALLY.FINISHED by now. life..is..crazy.
Anyway.
We thought we could apologize by showing you some amazing wall decals from down under.
WONDERWALL
Ever wondered why your kid draws on the walls?
You'd hate blank walls too if your imagination hijacked your brain every five minutes.
Introducing Wonderwall, creative wall graphics to control wax crayons everywhere. At last green giraffes can romp across the nursery with impunity. Our fun designs are easy to fix to walls, glass, mirrors or any flat surface. And the big blue elephant won't leave an impression on the wall when he's removed. Although he might refuse to budge from your child's imagination.
My very most favorite:: THUMBELINA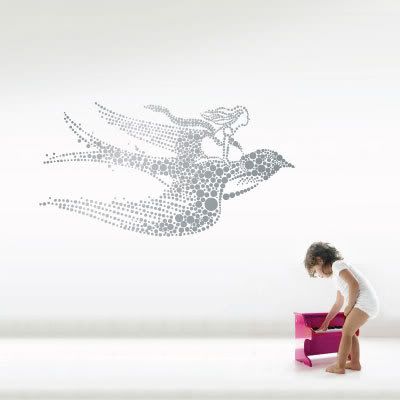 Get Some!