The kids love this one. Our version of a traditional rocking horse offers a fun ride with a modern twist. Minimal assembly required. Patent Pending. Materials: Bamboo and/or formaldehyde-free medium density fiberboard; low-VOC finishes. 19 1/4" H x 18 1/2" W x 31 1/2" D. This item is made-to-order; please allow 8-10 weeks for delivery.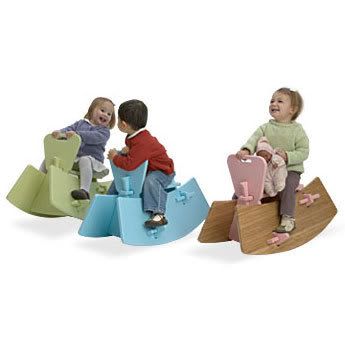 The parents at Celery Furniture had assembled more products with excessive amounts of screws than they could bear. So there it was: an idea for a method of assembling parts to create a collection of furniture, and the possibilites seemed endless. It seemed natural to conceive a line of furniture for the nursery that not only appeals to a parent's aesthetic but also nurtures a child's need for comfort and fun. They set out to build products they wanted for their own kids.
It's simple...So simple, in fact, that the need for hardware is eliminated. Mortise and tenon joinery allow for easy assembly without any special know-how, complicated tools or fussy fasteners. We even provide the mallet. By employing an age-old approach to furniture design, Celery has strengthened the Lullaboo line to provide exceptional durability that meets or exceeds industry standards for child safety. And, of course, it has to support a healthy environment for our kids. The selection of bamboo with non-toxic adhesives and formaldehyde-free medium density fiberboard combined with low-VOC finishes affirms our commitment to lasting and eco-friendly materials for all our furniture. That just seemed good for everyone. Designed and fabricated in Bozeman, Montana by local craftspeople.
Buy it at
SPARKABILITY
for $165