Henry has super duper sensitive skin...I love the Weleda products for him.
But what to do about sunblock?
There is Chemical Free Sunblock SPF 30+
70% Organic and Hypo-Allergenic
Earth's Best Organic protects baby's delicate skin from the sun with this SPF 30+ Chemical Free, Fragrance Free Sunblock created by JASON. This hypo-allergenic sun block is extra mild and safe for use on babies and sensitive adults. Enriched with Beta Glucan, Oat Oil and Lavender Extract this sun block not only protects but soothes.
Or California Baby's Sun Stick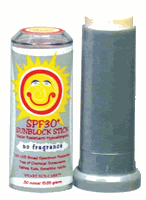 Pop this convenient PABA free, non-chemical, fragrance-free sunblock stick into your pocket, purse or diaper bag. The whole family will love this easy-to-use stick that gives those "hot spots" a boost of extra protection. Our non-chemical sunblock stick employs a highly micronized, non-whitening titanium dioxide that scatters and reflects dangerous UV rays, offering UVA-UVB broad-spectrum protection. Non-staining formula. It glides on smoothly for easy application. May be used in combination with our SPF30+ sunscreen lotions.
We like Baby Organic Sunscreen SPF 18 by Avalon for partly shady days since it is only SPF 18
It is a certified organic sunscreen. This non-greasy cream protects vulnerable skin with effective titanium dioxide, a natural UVA/UVB reflective barrier.
Which sunscreen do you like for your baby?