I met two great guys at the ICFF who own INMODERN - a design firm based in Indianapolis and spent a bunch of time talking with Scott Willy about his sustainable furniture ((Hi Scott))
They have a small line of children's furniture called ECOTOTS - my favorite of which is their table and 4 stool set.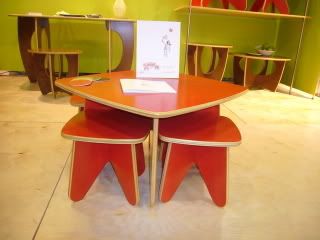 Currently in a reddish color (fire) and a lime green (leaf) the word is all sourced in the US and is birch. 100% formaldehyde free so there is no off-gassing! ((if you don't know what off-gassing is...google it immediately!))
The furniture comes flat packed and is assembled without tools...Daddy will be thrilled.
Please check them out at www.inmodern.net or click
HERE